More people are realizing the seriousness of these times, mostly caused by the self-destructive tendencies of humankind, which have resulted in destruction of natural resources, disharmony among nations, political divisions, and poor leadership in political, social, and religions organizations. On top of all of this is the multi-layered impacts of the worldwide COVID-19 pandemic and global warming. In these nightmarish times, one has to ask if we are now living in the times of purification or tribulation, which so many prophets have foretold.
We all need to be asking these questions: What is my purpose that the Creator of all has destined for me and all of us? What if the calling is to be a part of a group of people who are inspired to build a culture that is sacred (within divine pattern), sustainable, and regenerative for a new world to come? Can we rekindle the magic that the Findhorn community in Scotland found cooperating with celestial guidance? Does the purity of each soul effect the whole world and, in our circumstances, the health of our children, our ecology, and our human institutions?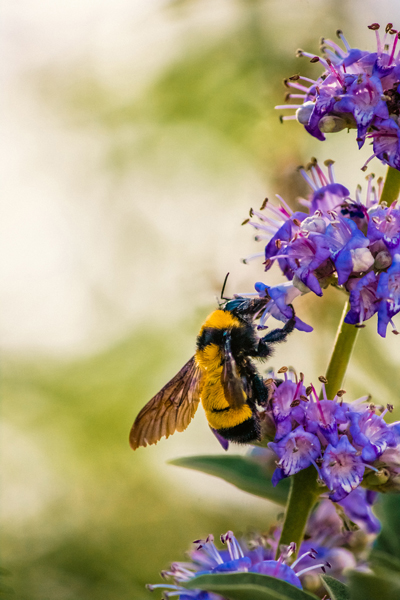 Many blessings have manifested at Avalon Organic Gardens & EcoVillage, the campus of The University of Ascension Science and The Physics of Rebellion (UASPR) since our intentional community of approximately 120 men, women, and children moved from the high-desert regions of north-central Arizona to the Sonoran desert of southern Arizona starting in 2007. Avalon Gardens serves as the agricultural department and sustainable learning facility for The UASPR, and we have learned much about gardening in this particular bioregion from study, consultation with other agriculturalists and scientists, and hands-on-experience. And we are continually making adjustments to the worldwide extreme weather conditions and changes as they occur here in the Pimeria Alta, a phrase coined hundreds of years ago by Father Kino for this region that covers the borderlands of northern Sonora (Mexico) and southeastern Arizona.
Many agriculturalists who implement truly sustainable and regenerative practices have realized that with knowledge and experience of gardening and farming comes the responsibility to become outspoken activists, in order to assist others in understanding the dire straits our world is are in and the need to produce and distribute food in a completely different manner than is being done, within the greed-infested, corporate-run food industry that promotes poor health and degradation for the environment and its inhabitants—plant, animal, and human—worldwide.
As human-rights Missionaries, who are teaching and living divine administration principles at The UASPR that are meant to become part of all aspects of civilization in the future, we are restoring and reconstructing the land we live upon. At the same time, as ascending sons and daughters of God, we each are rehabilitating and reconciling with the Creator, with our own true selves of wholeness, and with each other as a family and society.
Here in this Divine New Order community, we are growing not only healthy gardens but healthy people and healthy ways of thinking and responding to circumstantial reality. We are creating a paradigm for others to embrace—a culture of compassion and interdependency that takes the highest good of every soul into consideration by using divine administration principles. As the land we inhabit heals, so do we humans heal—as individuals and as families and groups that make up a society.
A reality of Divine Administration[1] manifesting worldwide is the attaining God's destiny for the peoples of this world, which is a reality of light and life[2] that has a foundation of absolute principles, based upon divine laws but expressed and implemented in diverse ways within the relativity of time. Thus, there can be worldwide brother-/sisterhood experienced by living in harmony yet with beautiful diversity too—unity without uniformity.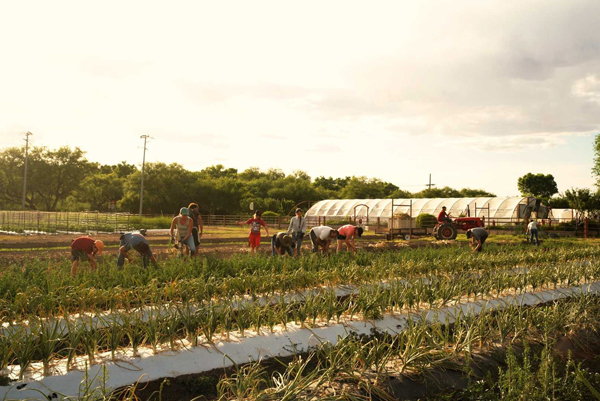 The following are some highlights of what has occurred on our land within our gardens and pastures since 2007:


Soil with a spring to it! Our soil-building techniques made the impoverished Bermuda grass pastures and the sandy soil below become productive organic gardens. The soil has now a spring to it; it can breathe and feels like a sponge. The topsoil is increasing and our raised beds are keeping their shape, even with the tremendous stress of gusty winds and extreme heat. We have compensated by building more soil than the erosion takes away. We have learned to make compost in a balanced way, including the mycorrhizae that feeds the fabric of life, and to assist the divine pattern that already exists in the regeneration of the soil. Our compost operation has expanded beyond our wildest imaginations and is a miracle in the desert that feeds the soil and all of us.


Occupy the gardens! Twice a week we come together for a couple of hours in the early morning hours for "Hands in the Soil". With volunteers numbering between 20 and 30, we are able to plant, mulch, weed, harvest, pickle, build compost piles, clean, and maintain order in the gardens. The skill of everyone has improved after training throughout our all-year-round season. This is the proof that everyone can become a gardener; maybe all of us have a green thumb and just didn't know it. During our heavy-harvest seasonal times, we also gather during an evening or two each week to bring in our bounty. Our agricultural lifestyle then gives everyone in the community a sense of ownership and responsibility.


Pollinators everywhere! Our Lower Gardens have been surrounded with dozens of large round raised beds to house thousands of perennial flowers as well as culinary and medicinal herbs. These pollinator plants continue to increase our pollinating insects all year round. Our beekeepers have also worked with native and Africanized beehives—rescuing many hives in nearby towns to save them from extermination by chemicals and relocating them here to Avalon Gardens. Some bees stay, and some move on. We hope to increase our pollinators, which also include hundreds of butterflies, hummingbirds, and many varieties of other native bees, as well as numerous beneficial insects. Neighboring alliances such as The Watershed Management Tucson, Sonoran Institute, and Borderlands Habitat Restoration Initiative continue to assist us in creating new habitats. We have now experienced (after many years) how the balance of beneficial and destructive insects leads to a manageable pest management organically. We became partners with Partners for Sustainable Pollination as a Certified Bee Friendly Farm and continue to expand our efforts in this area.


Pastures are healing! Despite a permanence of Bermuda grass in all of our pastures, we were able to interplant alfalfa, wheat, rye, and peas, as well as many other natural pasture mixes on about 85 acres. After many years of rotating horses, cows, chickens, and pigs, we have created a regenerative system, transforming a monoculture of Bermuda grass to a balanced and harmonious land. We are also applying our compost rich in mycorrhizae and using no-till methods that create even better soil permeability for nutrients. An extensive soil test was done, and our pastures are now healthier than any required standards. We recently leveled our growing fields, and the watering is now evenly distributed and gives excellent results in sprouting of seeds and harvesting crops.


Home gardens everywhere! All of our homes now have small gardens with some combination of flowers, herbs, fruit and nut trees, and/or some vegetables. There are independent rainwater harvesting and greywater systems for different plant life and other needs.


Let it drip! We have replaced flood irrigation systems with drip systems on all our garden acreage. Learning how to make best use of it increased all of our yields.


Watershed management! We collaborated with the Sonoran Institue to study our watershed and how we can harvest the annual rainwater for our gardens and other needs. We built an extensive waterway to navigate the rain that accumulates and flows into natural rainwater catchment basins, which feeds a variety of edible, ornamental, and pollinator plants. We transformed about 2 acres of Bermuda grass into a permaculture-inspired food forest that mimics a natural forest, which is self-sustaining and regenerates each season. With rainwater harvesting from all of our rooftops and with all of our rain-watershed management, we estimate we are reusing several million gallons each year, and we have slowed down soil erosion, retaining the nutrients that the rainwater brings. Through rainwater harvesting and watershed management, we have created an oasis in the middle of the Sonoran Desert, which brings peace to the land as well as joy for all who witness and experience this sacred area.


Plant an orchard! We have planted hundreds of fruit trees, grapes, and berries that are flourishing. We expanded the orchards around all of our homes, which have brought great yields, due to proper management. The trees and bushes also create much-needed shade and windbreaks, bringing new habitats for many creatures including us, who appreciate the added protection from extreme temperature swings of 40–50 degrees.


Local food expanding! For many years we ran a successful Community Supported Agriculture (CSA) program that served Nogales, Green Valley, and Tucson. Additionally we have had a presence at local farmers markets, food fairs, and festivals, and have sold produce to several restaurants and stores featuring local organic foods. Local distributors also distribute our garden harvest. We became part of the movement that established the Santa Cruz Valley Heritage Area, which recognizes the original inhabitants of this landscape, the O'odham and the Yaqui (Yoeme) tribes, and their descendants who remain thriving on both sides of what is, today, the United States/Mexico border. In our partnership with the largest local annual festival, called Tucson Meet Yourself, we have established, with help from various organizations, a Heritage Market that is now a thriving new addition to this great festival, bringing to people the experience and awareness of where their food is grown and who grows it.


Earth Harmony Festival! Our first annual weekend celebration of Eco-Living and Sustainability was held in 2012, providing weekend campers as well as day visitors alike the opportunity to form new friendships and alliances and walk away with an experience of the lifestyle of the near future. We hosted many events including a Purification Gathering, which included individuals from many indigenous tribes who were able to share their wisdom, blessing all of us. And many participants were inspired to bring our-down-to-earth lifestyle back to their homes and families, including starting gardens themselves.


Sharing the secrets! There is nothing better than to share what you have learned to do or not to do, as well as what you would like to try for the first time. We have hosted numerous workshops with neighboring universities, colleges, and other organizations. We introduced our food forest project—its evolution and future expansions. Our workshop, Organic Gardening in the Desert, that explains how to extend the seasons and adapt to the effects of global warming has been very sought after. We hosted a professional group of healthcare providers that sponsors improvements in a Haitian Village every year. We taught the Mexicayol Academy (4th and 5th graders) from Nogales twice a week. They have since started their own school garden, plus several of the kids inspired or now help their parents to have small backyard gardens. We created an alliance with the Iskashitaa Refugee Network in Tucson to donate and sell some of our harvest, and inviting them to glean some of our crops, as well as buying some of their gleaned and harvested products. These alliances have also benefitted our children, who have gone on field trips to learn from others of diverse cultures. The University of Arizona (U of A) and the Southwest Institute came for many workshops and tours to spread the wealth into their schools and home commnuities.


Start your own EcoVillage! Because of the interest in our prototype model, starting in 2013, we offer a set of workshops called the Earth Harmony Sustainability Seminar: How To Build An EcoVillage. We have had people from all over the U.S. as well as international groups from Japan attend these educational workshops. Over the years we have learned to personalize each person's or group's needs and have included many humanitarian and human-rights activist issues and needs as a way to reach out and make a difference in the world, including regular group visits from Japan for 20 years.


Build, join, and increase alliances! All of southeastern Arizona is buzzing with the support of much local, national, and international organizations to improve the local food security and health. Our alliances have strengthened with:



Somos La Semilla
Cosechando Bienestar
Mexicayol Academy
Nogales Development Group
Native Seeds/SEARCH
Sabores Sin Fronteras
ARAN (Association of Reforestation of Ambos Nogales)
Tucson Meet Yourself
Community Food Bank
Southwest Marketing Network
WHY Hunger
Iskashitaa Refugee Network
Tumacacori Mission interpreter training (we had one intern, my son there for almost an entire year)
Tumacacori Mission Heritage Orchard
Kino Historical Society
Borderland Restoration Network
Partners for Sustainable Pollination (Certified Bee Friendly Farm)
University of Arizona Southwest Institute
Heritage Grains Alliance,
Native Seeds/SEARCH
Rocky Mountain Seed Alliance
Tucson Aquaponics Project
Eco-Grow
Santa Cruz Valley Heritage Alliance
Sonoran Institute



Cosechando Bienestar! Mariposa Community Health Center was awarded a substantial 3-year USDA grant to improve food security and health in Nogales and neighboring areas. We partnered and provided technical assistance with organic gardening workshops at Avalon Gardens and in Nogales, as well assisted with establishing a weekly Nogales "Little Mercado" Farmers Market. Their now established community gardens is a good step forward in food security. The Little Mercado is proof that grassroots movements can add to culture and give viable hope for the future.


Grow your own grains! In an extensive alliance with five other growers, we began by growing 3 acres of Sonoran White Winter Wheat, a variety that Father Kino originally introduced 300 years ago in this area. We continue to expand our wheat and grain harvest and use the grain in our ongoing bread baking. We continue to host events and visit them to expand and exchange more varities of grains. Currently we grow about 10 heritage grains.


Real Bread! After attending a cob-building bread oven workshop with the Canelo Project founders, we built a very large oven in which we have baked hundreds of loaves of bread with our own heritage wheats grown in our fields. We were blessed that Don Guerra from Barrio Bread Company in Tucson taught us how to bake true authentic bread with natural fermented starters. It is actually crunchy, tasty, and healthy and reminds of us "old world bread," like in Europe.


Grow your own fish in the desert! Aquaponics and aquaculture has been established with innovative ways to adapt to our climate. Our team was educated by Will Allen and his Milwaulkee-based nonprofit, called Growing Power, and formed alliances locally with Tucson Aquaponics Project and Eco-Grow, exchanging tours and workshops to offer it to the local communities.


Mystic Farms brings healing!! Avalon Slow Food Enterprises, LLC, DBA Mystic Farms, is a fully-licensed and certified hemp farming and wholesale company. We became one of the first successful hemp farms in Arizona and currently sell and exchange seeds specializing on CBD varieties. Our ShamaMystic CBD products are now distributed through our own Soulistic Healing Center (in Tubac) and Sacred Teasures retail shop (in Tucson) and is assisting in the holistic healing of many individuals' afflictions.


Learn and Teach! The University of Ascension Science and The Physics of Rebellion has established an Agricultural Curriculum for the World Council of Food and Material Welfare. Many interns, volunteers, and visitors have benefitted from being here and learning our successful techniques and practices. Many have been inspired to return to their local community establishing gardens and continue educating themselves.


Make your children grow! Global Schools for Starseed and Urantian Children and Teens has mentorships daily and has manifested the next generation of a regenerative and spiritual culture of blossoming holistic children and youth.


Hope for the planet!! Our Leadership Training has assisted many souls to become leaders in our agricultural programs. They have grown into the next generation of Farm Directors, Farm Managers, and many other responsible skilled functions, forming teams of coordination.
There are many more blessings and accomplishments not mentioned here, many of which are very personal to each individual who has been blessed to be a part of Avalon Organic Gardens & EcoVillage in any small or big way. The highest gift to give and receive is the love of God, the Creator, and without the support and friendship of many others, The University of Ascension Science and The Physics of Rebellion and this sanctuary campus—Avalon Organic Gardens & EcoVillage—would not have been able to educate, encourage, and inspire so many others who wish to become activists for a better, more sustainable future for our beloved world and all her peoples.
---
[1] Divine Administration is a concept that encompasses thinking and living by principles that are based on the divine laws of love, mercy, and justice. As manifested on Earth, it includes leaders (human mortals and celestials) mandated to assist with the solving of world affairs.
[2] Light and life refers to stages of planetary evolution, where consistently more and more stabilization of souls and the planet transpire into harmony and peace.