Honorary Planetary Citizen of the Month
Global Community Communications Alliance honors those citizens whose stand for truth and service to humankind goes above and beyond the "Call of Duty" and is displayed by exemplary action for the furtherance of true justice, tolerance, and higher consciousness for this world and the world to come.
Juliana Dogbadzi
Eradicating Harmful Traditions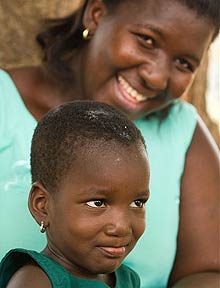 In the country of Ghana there exist religious practices that have continued over hundreds of years, diminishing the moral equality of young female children and adults. Members of the Trokosi beliefs have exploited young female children, teens and adults throughout the country. The Trokosi fundamentalists enslave young girls for alleged crimes committed by their dead relatives. Besides being sexually abused, the young female victims are forced to tend fields for their slave masters who are the priests of the shrines. Juliana Dogbadzi was a victim of this fetish slavery in Ghana for seventeen years until she escaped at the age of twenty three. Juliana was seven years old when her parents took her from her home to a shrine to pay penance to the gods because her grandfather had allegedly stolen two dollars. Her parents had given her sister to a shrine six hundred miles from their home as penance, but after her untimely death, Juliana was chosen to replace her. Even as a young child of seven years of age, Juliana cleaned the shrine and worked in the priest's field receiving no food or medical treatment. The priest repeatedly raped her and she was forced to live with eleven other women and children slaves in one small room. She was never allowed to go to school. She had escaped several times but was forced to return by her parents to the shrine. On one occasion, her parents, who feared revenge from the gods, returned her to the shrine. On another occasion, when the priest had found her, his workers nearly beat her to death.
Juliana escaped successfully with her two babies (both the result of being raped) at the age of twenty three and made it to freedom. Today Juliana is married and has begun to read, write and speak English. She has dedicated her life to freeing other enslaved young girls, women and children. Juliana has launched a campaign to eradicate these harmful traditional practices and has begun legislation to outlaw these injustices plaguing the female children and women of her country. She returns frequently to the fetish shrines to speak boldly to the priests about her campaign and to other female slaves about their rights to freedom from superstitious beliefs. Working at the grassroots level, Juliana advocates for the rights of women and children in religious bondage across Ghana, educating and ensuring the upholdment of the social, economic, and cultural rights of women. Due to her efforts, she has freed more than one thousand slaves from fifteen shrines throughout the upper region of Ghana. When interviewed by the press, Juliana simply states: "Unlike most of the other girls and women, I got over the fear instilled by the Trokosi system. This was my weapon. Now that I have escaped, I help diminish the woman's fears by telling my story. I tell them what I am presently doing, and that I am still alive."
We the members of Global Community Communications Alliance extol the courage and bravery of Juliana Dogbadzi for standing up against ungodly fetish traditions, becoming a living catalyst for change and progression among her people in Ghana.