Honorary Planetary Citizen of the Month
Global Community Communications Alliance honors those citizens whose stand for truth and service to humankind goes above and beyond the "Call of Duty" and is displayed by exemplary action for the furtherance of true justice, tolerance, and higher consciousness for this world and the world to come.
Thomas Mapfumo
The Lion of Zimbabwe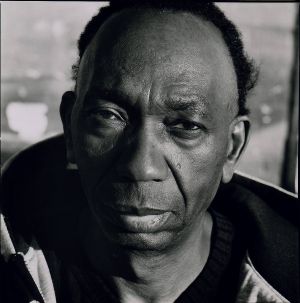 When one thinks of revolutionaries for the people, many names may come to mind: Marcus Garvey, Karl Marx, the Zapatistas, Gandhi, Guevera, and in the musical realm Marley, Fela Kuti, along with countless others. Add musician Thomas Mapfumo. This living legend has been the voice of his suffering peoples in Zimbabwe for three decades now, and his roar is stronger than ever.
Recently there were elections in Zimbabwe which many observers have denounced as a fiasco. The current leader, Robert Mugabe, has been accused of corruption and undermining the people's votes for a new government, in order to retain his power. Ironically, this is the one-time rebel leader that Mapfumo once backed through his music, and who eventually was chosen to lead the country when the British relinquished control in 1980. The story goes back much further though.
In the 19th century the native peoples engaged in a war for liberation against the British. This battle was called Chimurenga Chekutanga, being led by "a great Shona spirit", Mbuya Nehanda, sister of the revered Shona "prophet" Chaminuka. The British colonial rule prevailed, and Nehanda was hanged, but had first declared that her bones would rise to fight the second war of liberation. Nearly a hundred years later, Mapfumo came forth with what he coined chimurenga music, meaning the music of the fight; of the struggle. In many people's eyes the prophecy had come full circle.
Having taken music seriously since his youth, Mapfumo has had a few decades to develop his unique approach, playing with many musicians and various bands. In the mid 70's, when the liberation struggle was heating up, he released some songs with strong statements towards the white-dominated system. The people were rallying, and Mapfumo was increasingly becoming a voice against the oppressors they heard loud and clear. The British regime of Ian Smith recognized Mapfumo's popularity, slowly catching on that the traditional Shona lyrics (that the whites couldn't understand) he used, steeped in "deep proverbs", were subversive and inciteful, and had him thrown in jail without charge. The native Zimbabwe people abhorred the declaration Smith had made, that Rhodesia (as the British had named it) would never be ruled by Africans in his life time. They looked to Thomas to see what would happen.
After three months the government offered to release him on the condition he play a benefit concert. As Thomas said "It was a political move, all these people who were for an internal settlement [to the call for independence], and by having me play there, they thought it would make me look like I was supporting them." The tables were turned, as he played his revolutionary songs at the concert, simply telling the government he'd been imprisoned and had no time to rehearse new music.
Thomas was free, and he played his inspiring music for the country in its quest for freedom. Finally, the British negotiated for a cease-fire, and after many meetings which eventually led to an election, Mugabe won, and Zimbabwe was born. One would have wondered where Mapfumo's career would go from there. Mapfumo continued to record albums and develop his sound, centered around addressing the suffering and frustration of his people who had hoped for the best with a change of government. Having long backed Mugabe, over the decade he increasingly became disillusioned observing the plight of the citizens, who seemingly hadn't experienced any sort of benefits from the new independence. In 1989 he made an abrupt reversal of his position, releasing "Corruption", a scathing criticism of the graft in the government which he claimed was creating a rot within the country. The impact of the song, which was immediately banned from the airwaves, was tremendous.
In the past decade since, Mapfumo has steadfastly remained true to his vision and call for justice and change. With his music going global, he has entered into the larger arena of an entire planet in dire need of real revolutionaries willing to stand up and say enough. Mauya va Dr. Mapfumo. Titambire mukanya shamwari. We, at Global Community Communications Alliance welcome you. We receive and honor you, friend. Together, we walk towards this planet's destiny of light and life for all.
Recently Thomas Mapfumo played two concerts at Future Studios. In addition to these events, he did an interview for satelite with another freedom fighter musician, Gabriel of Sedona.