Honorary Planetary Citizen of the Month
Global Community Communications Alliance honors those citizens whose stand for truth and service to humankind goes above and beyond the "Call of Duty" and is displayed by exemplary action for the furtherance of true justice, tolerance, and higher consciousness for this world and the world to come.
Gerson Andres Florez Perez
A Voice for the Children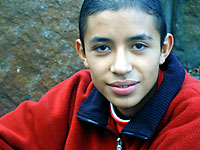 When Gerson Andres Florez Perez was just eleven years old his life changed in a flash. That flash happened to be a land-mine exploding, killing a girl in eastern Columbia. Observing the news recount this tragedy, and another of the same nature ten days later stirred his heart. In his own words (all following quotes):
"These events overflooded my sense of humanity. Yes, in the deepest of my being, a great challenge set root; a challenge which in that moment perhaps only was nostalgia, but which day by day turned into my most important objective—the objective which I fight for today. An objective liberated from peace retorics, but filled with humbleness and novelty provided by God, who has always guided me.
"At my young age and with my innocence, I understood that for many adults peace is as a good of a business as war, and that only when it is born from our interior, will we be able to bring peace to our fellow beings. I understood that true peace is provided by God, and that it is our duty to maintain it for the well-being of all humanity."
Gerson took action, writing a peace proposal entitled "Children of Peace." He presented this to the media, and his voice began to be heard. Even before reaching his teen years, he was already moving boldly into the challenging, complex arena of pro-active humanitarian service. Due to the dedication of Gerson, many other children, and supporting adults the following occurred:
"In a symbolic but transcendental act two million, seven hundred thousand children all over Colombia gave their vote in a referendum, demanding that their fundamental rights be respected. This act, later on named the 'Children's Movement for Peace,' was not in vain. The children's vote triggered the most important referendum by civil society for life and liberty. Ten million people shouted for peace in our country, only one year after having witnessed the children's desire to live in harmony. These two precedents rejected the actors of violence in the fullest meaning of the word.
"God began showing me the light. ...He had already placed angels in my path so that they would provide me with moral support and help me open doors."
Gerson walked through these doors, following his calling, to the Hague Appeal for Peace, and onward to numerous conferences, events, forums, and meetings, where he spoke and participated in various manners. He was awarded the 1999 Global Youth Award for Peace and Tolerance, and the National Peace Award for his outstanding efforts.
"I understood that it was time to begin and continue my work in the faithful company of God, my parents, and those human angels; those who in the future would be fundamental for many of the invitations they would provide for me in other countries in order for me to give speeches about the conflict and the children in my country.
"I had broken many walls and barriers, my spirit had matured. I was now able to confront myself with adversity all by myself. My mission on earth was taking shape."

In 2002, at age sixteen, he became the youngest law student at The Universidad Nueva Granada, and has been nominated for the Nobel Peace Prize. What shall the future hold for such a soul? We shall see.
Never have the multitudes risen except for those few brave souls willing to stand up, take action, and lead the way. The potential of one person, fueled by vision from God, is endlessly abundant. To our young brother, a change agent for all humanity, we at Global Community Communications Alliance honor you for your conviction to follow God and seek peace and justice.
The fruits of your sincere and loving service, are the mighty social lever to uplift the races of darkness, and this Spirit of Truth will become your power-multiplying fulcrum. ( Jesus, The Urantia Book, p. 1930)