Honorary Planetary Citizen of the Month
Global Community Communications Alliance honors those citizens whose stand for truth and service to humankind goes above and beyond the "Call of Duty" and is displayed by exemplary action for the furtherance of true justice, tolerance, and higher consciousness for this world and the world to come.
Sattar & Bilquis Edhi
Serving Humanity in the Face of Fundamentalism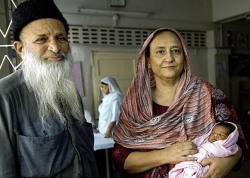 "This is very difficult work, because of fundamentalism. Our society does not want to give any facilities to females. When political opponents criticize us, we never fight them—we ignore them. Still, it's very hard to survive if you are working for all the people, not just your particular religious or ethnic group."
~Dr. Edhi
In Pakistan, Dr. Abdul Sattar Edhi and his wife Bilquis have built a legacy of service comparable to what Mother Teresa did next door. The Edhis have spent a lifetime working for the people: a selfless vision rarely paralleled on such a level elsewhere in the world. For over half a century they have built a massive group of servants operating with the single, united focus of helping those in need around them.
Dr. Edhi has established free hospitals, eye clinics, diabetic centers, surgical units, mobile dispensaries, blood banks, maternity homes, adoption centers, mortuaries, shelters for runaway children and battered women, soup kitchens, nursing courses, schools, welfare centers, field and air ambulances (more than 600 on the ground), missing persons services, animal shelters, prisoners aid, orphanages, and much more. Here are some numbers: 20,000 abandoned babies saved; 40,000 nurses have been trained; 50,000 orphans are housed in Edhi Homes; more than 7,000 volunteers are involved; more than a million persons served per year in their hospitals and dispensaries; more than a million babies delivered in the maternity centers.
How was your teen-hood spent? By eleven years old Edhi cared for his paralyzed mother until her passing eight years later. He even had to drop out of school to do this. His experience with his mother caused him, at such a young age, to consider the tremendous suffering around the world and the millions who had no one to care for them. Then the terrible political upheaval caused by the splitting of India's North-Western frontier into Pakistan uprooted his family and took him to Karachi.
He heard the call of the suffering people and began his mission with the support of a handful of people. "My religion is humanitarianism, which is the basis for every religion in the world." He opened his arms to those in need: "I am always available to all, rich or poor. Anyone can come into this office and talk to me." Sleeping often on the floor or out in front of his office, he gave up his own life to receive the lives of others. In 1965 he met Bilquis, a nurse at one of the dispensaries. They married, and she joined him in the mission.
Referring to a businessman who began a partnership with the foundation to assist the poor in starting fabric shops, food stalls, and other small businesses, Dr. Edhi commented: "He's helping them stand on their own rather than giving them handouts that only make them more dependent. That's the humanitarian revolution we need. But still so few understand. Let's spread the word."
Now, ask yourself this: why would someone referred to by millions as the "Angel of Mercy" receive death threats? He has lived a life of simplicity and honesty (without wealth or luxury); has shunned publicity (requesting people not to invite him as a special guest to events because he has work to do and his life is devoted full-time to serving those with needs, and these events are a waste of his time); and avoided political allegiances (refusing money from governments—"governments set conditions that I cannot accept").
What or who, you may ask, has been threatened by living in such a way? He and his wife have not ever slowed down or taken a vacation in forty years; in fact, even their honeymoon didn't happen because an emergency occurred and their service was needed! Do people feel threatened because he has been outspoken about fundamentalism, corruption, hypocrisy, and other root causes of suffering in the world?
We, at Global Community Communications Alliance, feel a kinship with those in the world who devote themselves to doing good, even in the face of all manners of obstruction and resistance. We honor Dr. Abdul Sattar Edhi for spearheading a life for all to be inspired by, and his wife Bilquis for hearing the call and joining forces with him, enabling the work to become even broader as a couple.