Honorary Planetary Citizen of the Month
Global Community Communications Alliance honors those citizens whose stand for truth and service to humankind goes above and beyond the "Call of Duty" and is displayed by exemplary action for the furtherance of true justice, tolerance, and higher consciousness for this world and the world to come.
Chief Theresa Spence
Taking A Stand For Earth Peoples Sovereignty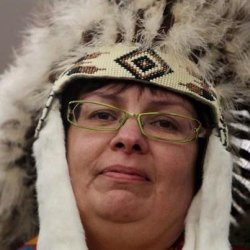 In December of 2012, four women in Saskatchewan began to reach out to their fellow teachers and students about Canadian's recently passed Bill C-45. They created a Facebook page called "Idle No More" and asked their community to do something about a new Canadian law that attacks the land base reserved for Indigenous peoples. Nina Wilson, Sheelah McLean, Sylvia McAdam and Jessica Gordon realized that Bill C-45 is but one piece in an onslaught of recent Canadian legislation geared to whittle down the environmental assessment process for major energy projects across the country.
This led to ripples of people deciding to act immediately with teach-ins and rallies, then joining up with the largest indigenous mass mobilization in recent history which quickly snowballed into a grassroots, global super-movement which has been called "A Battle Cry for the Planet". First Nations Peoples in Canada had been mobilizing against Bill C-45 as part of their ongoing struggle with the colonial power of the Canadian government. To First Nation People, the Canadian government is an occupying force that has caused third world conditions for most that live on the reserves.
Idle No More's first national day of action in December 2012 was also the first day of Attawapiskat First Nation Chief Theresa Spence's six-week-long hunger strike that ended on January 24, 2013. Her hunger strike became the flint on the stone of the indigenous resistance in Canada. Chief Spence demanded a joint meeting of the Assembly of First Nation Chiefs with Prime Minister Stephen Harper and Governor General David Johnston. Her demand for nation-to-nation talks recognizes that First Nation People hold sovereignty, and should be respected as such. Idle No More rejects the idea that the Canadian government can make unilateral changes to the Indian Act, or to the way land and water are used, without direct consultation and agreement from Native people.
In support, thousands of people have held flash mob round dances in many parts of the world. Using cultural expression combined with modern activism to get the message across, the flash- mob round dances are rooted in Powwow Intertribal where all Natives are invited to join. Idle No More has opened this up for non-Natives to join as well, since the "Battle Cry for the Planet" is one that needs to be made by people all over the globe. According to Sheelah McLean, this movement is being built on love and spirituality. She goes on to say that "It has been built in a peaceful way. There are many ceremonies and prayers that are part of the rallies and part of the flash-mob round dances". McLean believes it's the power of this spirituality as well as the articulation of long-suppressed truths about the relationship between colonization, oppression and ecology that has drawn the outpouring of love for the movement. Idle No More calls on all people to join in a revolution which honors and fulfills the Indigenous sovereignty which in turn protects the land and water. Native youth are the fastest-growing segment of Canada's population, so it is not surprising that they are taking on repressive legislation and using social media to organize.
Flash-mobs with dancing and drumming at malls across Canada, all over North America, as well as in Europe, New Zealand and the Middle East are occurring. For everyone this is a moment of reckoning. Just as Chief Spence's hunger strike forced the issue with Prime Minister Harper, Idle No more forces us all to confront the ugliness of our collective colonial history, and to recognize that colonialization continues today.
The Idle No More movement is spurred by the Canadian governments longstanding genocidal agenda against First Nations People (for more information on this see the Honorary Planetary Citizen write up for Kevin Annett http://gccalliance.org/planetaryhonor/33) and Canada's current agenda of selling the natural wealth of the Canadian (aboriginal) north to the highest bidder in a multinational market. Since Canada's economy is largely based on exploiting natural resources at an alarming rate, it is moving into a leading position in the world in terms of greenhouse gas emissions, fracking, and lacing pristine waters with cyanide for new mines.
Chief Spence's hunger strike has brought significant publicity to the controversy around the agenda to open up treaty lands to development. Bill C-45 significantly reduces the number of development projects that require environmental assessment and dramatically changes the nation's Navigable Waters Protection Act—which since 1882 has made it illegal to "block, alter or destroy any water deep enough to float a canoe without federal approval." Now, only specifically enumerated bodies of water have that protection. This opens the way for Canada's controversial tar sands industry, which requires the construction of new oil and gas pipelines directly through First Nations territories and across waterways in order to get its product to the refineries.
Surviving on water, therapeutic tea, and fish broth, Chief Spence lost 30 pounds in 40 days and had to be hospitalized at the end of the strike. She has since recovered and is continuing to be a major voice in the Idle No More movement. As the leader of the Attawapiskat First Nation, a very remote Cree community from James Bay, Ontario, which is at the bottom of the Hudson Bay, Chief Spence is no stranger to struggle. Her community has 1,549 on-reserve residents (a third of whom are under the age of 19) who have weathered quite a bit through the years including the fur trade, residential schools, a status as non-treaty Indians, limited access to the reserve over an ice road for 8 months of the year, and limited access to modern conveniences such as toilets and electricity. Last year, Attawapiskat drew international attention when many families in the Cree community were living in tents.
Winnipeg, Manitoba broadcaster and Anishnaabe musician Wab Kinew told Indian Country Today Media Network that Idle No More has grown from a reaction to Bill C-45 to a broader movement. "Idle No More is definitely about indigenous rights, culture and sovereignty," said Kinew. "But the ideals that underlie it are ones that matter everyone. They're about rights, freedom, the environment, preserving a positive environment for our children. There are so many tensions and issues in the aboriginal community, the indigenous community: missing and murdered women, poor health outcomes, poor education, poverty, social issues, racism and on and on and on."
Chief Theresa Spence's demand to have Prime Minister Stephen Harper meet with the Assembly of First Nation Chiefs was realized on January 11, 2013. On January 24th the Assembly of First Nation Chiefs signed a 13-point Declaration of Commitment meant to keep the movement's momentum going and to maintain pressure on the federal government to enact concrete change.
Waves of global response to declarations of intent to stop the ruling elite and their agendas of greed are increasing. Despite many naturally occurring differences between the various groups of people who are crying out for a complete shift in planetary consciousness and management, we all are in agreement that we must come out of the system of greed and apathy and make something happen. Every time someone pokes their head up and says or does something that signifies changing the system of corporate control millions of people show their solidarity. It is only a matter of time before true leadership will arise that will lead the planet into a planetary SPIRITUALUTION℠.
Meanwhile, two men—He Carries the Strength of 10 Buffalo and Mark Berquest—held a 4-day liquids fast in a tipi before the Hamilton City Hall in early February 2013. They spent their time praying, performing pipe ceremonies and talking to people about the ideals of the movement. Strength & Berquest contend that the Idle No More movement needs to do more than chant and rant and rave. They would like to see more teaching given before marches and events because real change will come only when everyone is educated about the issues we are all facing.
Idle No More has already stimulated art and music to deliver the message. Check out the link below to view two excellent music videos by the Canadian First Nation band CerEmony.
http://indiancountrytodaymedianetwork.com/article/idle-no-more-soundtrack-ceramonys-looks-change-me-146501
We of Global Community Communications Alliance recognize Chief Theresa Spence as a change agent and an essential member of the global family making her personal contribution at just the right place and time to have global reverberations. We recognize Chief Spence because she is working towards tearing down and moving beyond the fallen system. Global Community Communications Alliance encourages everyone world-wide to join the SPIRITUALUTION℠—Justice to the People.