Honorary Planetary Citizen of the Month
Global Community Communications Alliance honors those citizens whose stand for truth and service to humankind goes above and beyond the "Call of Duty" and is displayed by exemplary action for the furtherance of true justice, tolerance, and higher consciousness for this world and the world to come.
Millard Fuller
Building Homes For Those In Need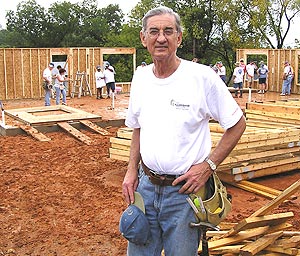 Nearly two billion people worldwide lack decent affordable housing, and there is someone who is doing something about it. Millard Fuller and the Habitat for Humanity International (HFHI) have built homes for more than one hundred thousand families in need in more than fifteen hundred US cities and sixty other countries. More than five hundred thousand people now enjoy safe, decent, and affordable housing due to Habitat's work around the world. Millard Fuller founded HFHI with his wife Linda in 1976. HFHI, a worldwide Christian housing organization, has grown to be one of the top twenty builders in the US and the largest among nonprofit.
Becoming a millionaire at age twenty-nine, Millard Fuller had a soul searching experience that led him to selling all of his possessions, giving the money to the poor, and joining a Christian community in Americus, Georgia where people were looking for practical ways to apply Christ's teachings. As a member of his new-found home, Millard and his wife initiated several partnership enterprises, including a ministry in housing. They built modest homes on a no-profit, no-interest basis, making homes affordable to families with low incomes. Each homeowner family is expected to invest their own labor into the building of their home and the homes of other families. Money for building is placed in a revolving fund. Money from the fund is then used to build houses; house payments are in turn made back into the fund, enabling the building of even more homes. Habitat's economic philosophy is based on what Fuller calls the "economics of Jesus." The no-profit, no-interest components of the program come from a passage in the Bible (Exodus 22:25) that says someone lending money to the poor should not act as a creditor and charge interest.
The homes built by HFHI are sold at no profit and with no interest charged on the mortgage. Homeowners and volunteers build the house under trained supervision. Individuals, corporations, faith groups, and others provide financial support. Families are chosen according to their need and their ability to repay the partnership with Habitat. Habitat for Humanity does not discriminate according to race, religion, or ethnic group. fuller has written six books about Habit for Humanity and the book The Theology of the Hammer explains the concept that true religion mandates that we build houses, finding common ground in using a hammer has an instrument to manifest God's love. Fuller received the Medal of Freedom from Present Clinton in September 1996 and was named the 1995 Builder of the Year by Professional Builder magazine. He and his wife were awarded the 1994 Harry S. Truman Public Service Award, and he also has received the Martin Luther King, Jr. Humanitarian Award from both the State of Georgia and the King Center. He continues to receive many honorary doctorates and achievement awards for his outstanding leadership and contributions toward the goal of eliminating poverty housing worldwide.
Global Community Communications Alliance would like to recognize and honor Millard Fuller for his steadfast dedication and commitment toward the fulfillment of his vision in eliminating poverty housing worldwide.