Honorary Planetary Citizen of the Month
Global Community Communications Alliance honors those citizens whose stand for truth and service to humankind goes above and beyond the "Call of Duty" and is displayed by exemplary action for the furtherance of true justice, tolerance, and higher consciousness for this world and the world to come.
Judith Jenya
Hell's Angel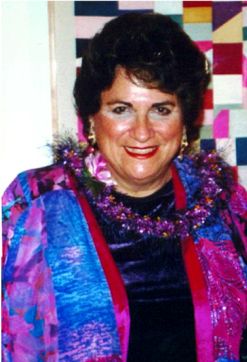 In a war-torn world where conflict between countries, religious sects, and capitalistic interests appear to be an everyday headline, political, religious, and corporate leaders should ask themselves what repercussions do their decisions have upon our children and the future of our planet. Children are the most traumatized and forgotten victims of global, national, community, and family violence. One and half million children have died in war zones in the past ten years, not to mention the four million children permanently injured by bombs, bullets, land mines, chemical weapons, and machetes. In addition to this terrible loss of life, millions of children have been traumatized by the effects of war with twelve million losing their homes and five million forced to live in refugee camps in the past decade. Who and what is being done to ease the suffering of these children who have found themselves in the very jaws of hell? A godsend, by the name of Judith Jenya, is a woman who is helping war-torn children and teens reclaim their life.
Judith Jenya, a long-time California resident, has been working for thirty-two years as a teacher, social worker, family and art therapist, attorney, and workshop leader in all aspects of child development, care, and advocacy. In 1992, Judith founded Global Children's Organization (GCO), a non-profit, non-governmental organization which is dedicated to promote awareness, respect, and hope to children and youth caught in the crossfire. Judith believes that peace building for the future must address the basic human needs of children for love, security, and self respect. GCO programs meet these needs through creative expression, conflict resolution, and caring, personal relationships in an environment respectful and accepting of cultural, ethnic, and religious diversity. She runs three summer camps a year for children of varying ethnic and religious backgrounds—Muslims, Catholics, Jews, and Orthodox. Many refugees and orphans have come from Bosnia, Croatia, Kosova, Republika Srpska and other regions to find refuge at GCO's island camp off the Adriatic coast of scenic Croatia. In 1999, Jenya began a camp in Donegal, Ireland for kids from both Protestant and Catholic sides of the troubles in Northern Ireland. Jenya and her staff realize that many of these kids had witnessed horrible violence and had the seeds of hate and anger in their young minds, and they needed to be approached with sensitivity, flexibility, and diplomacy. At camp the children have the opportunity to begin healing using art, drama, music, sports, swimming, and childhood play. They participate in daily activities emphasizing the creation of personal, peaceful solutions to conflict, living harmoniously in diverse communities, and protecting the natural environment. Jenya also hosts a unique interfaith service which prompted one child to comment: "I didn't know they had the same God."
It all started in 1990 when she volunteered to help lead a youth camp in Russia for kids from Chernobyl. She was ridiculed by an administrator in a Croatian orphanage she was visiting who got in her face and said, "I hate all you humanitarian aid types. You come here and take photos and feel sad and no one does anything." She asked the gentleman what he thought the children needed most. He said they need a summer camp, some place to get away from all of this. With that, Judith went to work in making such an idea a reality. She befriended two young men, a Bosnian and a Croat, who had recently left Sarjevo. They helped her get all the proper permissions from the Croatian Government and find the actual camp site—a fifteenth century monastery on Badija, a serene, idyllic island off the Adriatic coast. The summer camps have brought back a small taste of joy to the lives of the children and teens whose suffering are horrific. The children are given the chance to be kids again. They learn that there is more to life than the horror and violence they've witnessed in their few short years.
We the members of Global Community Communications Alliance take this time to recognize and acknowledge Judith Jenya, for her courageous loyalty and unselfish devotion in restoring the lives of children that have been blown apart and forgotten in lands ravaged by war, conflict and greed.