Honorary Planetary Citizen of the Month
Global Community Communications Alliance honors those citizens whose stand for truth and service to humankind goes above and beyond the "Call of Duty" and is displayed by exemplary action for the furtherance of true justice, tolerance, and higher consciousness for this world and the world to come.
Amber Coffman
A Beauty-Queen With An Angel's Heart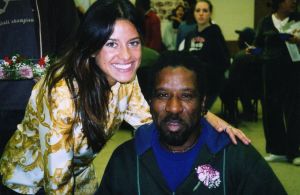 (Although we of Global Community Communications Alliance do not agree with, encourage, or support beauty contests or corporate publicity/sponsorships, we realize and recognize the desire of Amber to bring goodness and change to others and understand there are only limited tools available within the dominant system.)
It has been said that civilization can hardly progress when the majority of the youth of any generation devote their interests and energies to the materialistic pursuits of the sensory or outer world. With teenagers being bombarded by the lure and thrill of materialism and self interest pursuits, it is delight to find a teenager who is an advocate for youths, making an altruistic difference in the world. Her name is Amber Coffman from Glen Burnie, Maryland. Amber, now a young adult, began to take an interest in the lives of people she served when she was only eight. Amber and her mother would volunteer their time, and service to a homeless shelter near their home, and at such a young age Amber felt she needed to do more. She recruited students from her school, put up flyers in local stores, and prepared bag lunches for distribution in the streets. She asked for donations from local bakeries and delis in order to provide the meals. By the time she was ten years old, she organized a non-profit company called Happy Helpers for the Homeless. The organization has grown to involve more than five hundred young people over the years. Six hundred bag lunches are prepared in her apartment every weekend. Amber and her volunteers collect thousands of toiletries, blankets, clothing items, and resource books to distribute to the homeless. She annually organizes several special events. These include a day of providing rarely-offered services including haircuts, dental treatment, laundered clothing, and an annual joint birthday celebration where Amber gives her birthday to the homeless, organizing a party to celebrate their birthdays. At her own expense she buys each of them a special gift.
Amber was inspired to action based on a book report she did on Mother Teresa. She worked with Mother Teresa in Calcutta as a missionary back in 1998 and realized she could make a difference in the world. Happy Helpers for the Homeless grew out of these inspirations and is now in forty nine states and several countries. Amber has crammed a lot into her young life, becoming a prominent local and national figure—as a teen pageant winner and, more extensively, as a young volunteer. As an ambassador for America's Promise and the Heart of America Foundation, she talks to student groups and organizations across the country about Happy Helpers and youth service. Coffman has also appeared on Oprah Winfrey's and Montel Williams' TV shows. Miss Teen Maryland in 1998, Miss Young America in 1999, and Miss American US Teen in 2000, Amber has lead a youth coalition to feed the homeless, traveling throughout the country to tell the youth how they can gain so much from volunteering. She says, "You become positive in spirit, and you feel a real connection with your community." Abandoned by her father before she was born, Amber and her mother live in a small, plainly furnished apartment ten miles south of Baltimore. She understands tough times, and thus works hard to educate people on the homeless situation, getting others involved in helping to meet their needs. Believing that the homeless are largely misunderstood, she takes every opportunity to speak in public and encourage others to start their own service clubs. She tries to help others see the world from the eyes of the homeless and has developed a starter packet to those interested in taking part in the volunteer efforts. Word of her success is getting out. In the last year, youth groups in thirty three states, Guam, and Canada have asked for help starting up their own branches or Happy Helpers for the Homeless.
As a hunger activist, Amber personally met President Clinton when she accepted the prestigious Presidential Service Award. She also met Congressman John Kasich who asked her what he could do to help. She replied, "We need lunch meat." The Ohio representative was so impressed by the young girl's boldness, he personally petitioned Oscar Mayer to sign on. He also put Coffman in his new book, Volunteerism in America. In addition, McDonald's, B.J.'s Wholesale Clubs, and Mrs. Fields contribute to Amber's cause. Coffman admits the work can be exhausting and sometimes she misses the normal kid stuff like sleeping late and going to the mall. But she says, "If I can help one person get back on their feet, it's all worthwhile." As a freshman at Pepperdine University, she plans to join the Peace Corps after graduating because for Amber volunteering with the spirit of compassion is obviously her first love. "When I was younger," Amber says, "the kids used to tell me, 'You're a goodie-goodie. Why do you do that every weekend?' They didn't really understand. I think you have to come and do it, and then you understand why you want to do it every week. It's indescribable, this feeling that you get. And this is hands-on," she adds. "You can see the difference that you're making."
We the members of Global Community Communications Alliance take this time to honor and acknowledge the tireless and selfless attitude of Amber Coffman, who at such a young age, has touched the lives of so many shut out, and forgotten by our present day society. For the twenty-five thousand homeless who personally know Amber Coffman, she personifies to them what it means to be touched by an angel.