Honorary Planetary Citizen of the Month
Global Community Communications Alliance honors those citizens whose stand for truth and service to humankind goes above and beyond the "Call of Duty" and is displayed by exemplary action for the furtherance of true justice, tolerance, and higher consciousness for this world and the world to come.
Ana Hazare
Selflessness in the Face of Corruption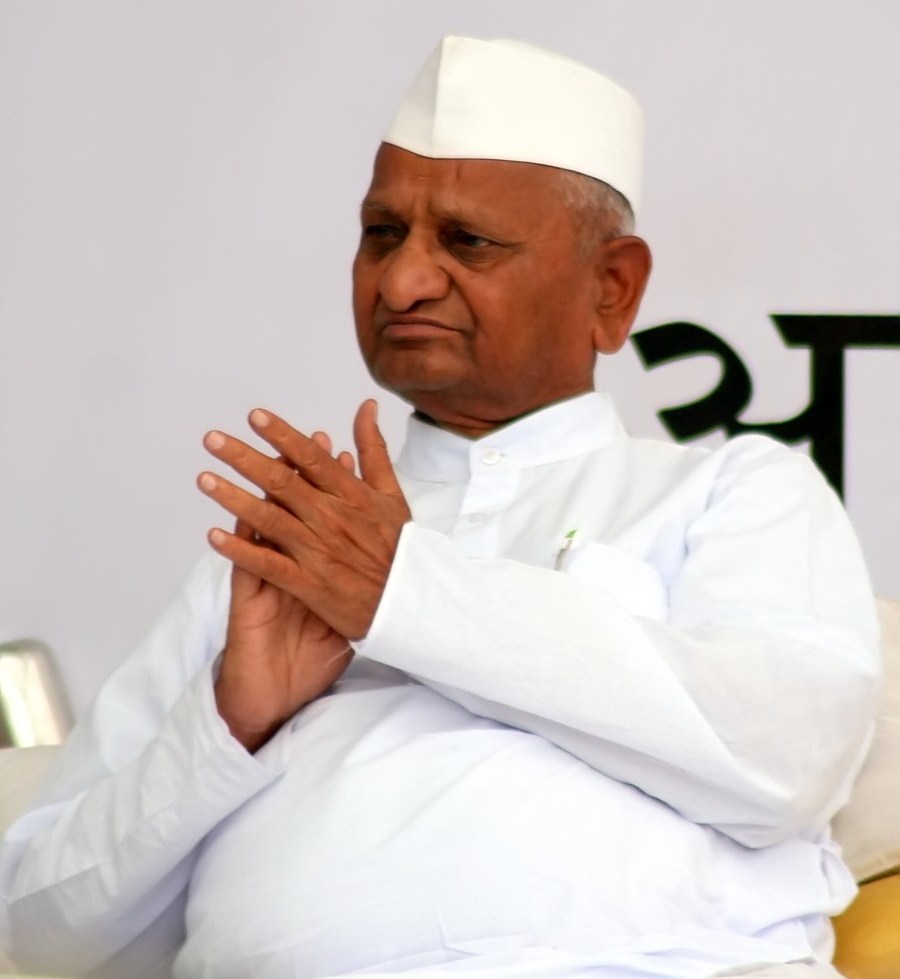 In the mid-1960's, Ana Hazare was a frustrated soldier in the Indian Army. While dodging bullets and watching many of his comrades die, he began to question the meaning of life. At a moment of deepest despair which included contemplation of suicide, he picked up a book by Swami Vivekananda in a railway station and read that "the ultimate motive of human life should be service to humanity". At that point, Ana Hazare had a spiritual transformation that gave him the clear realization that striving for the betterment of common people is equivalent to offering a prayer to God.
In 1965, all of his comrades died in a Pakistani air-raid at the Khemkaran border. He was the only one to survive, and he barely made it—with bullets whizzing past his head. He was 26 years old, and this was a turning point for his life. He decided that he had been spared because his life had a purpose. He also decided that he would finish his years of Army so that he would earn a pension after retiring; he decided never to marry and to dedicate his life to the service of humanity.
After voluntary retirement from the Army in 1975, Ana Hazare, believing that charity should begin from home, returned to his native village of Raleghan Siddhi, in the Parner tehsil of Ahmednagar in the state of Maharashtra. In choosing a way to serve the common people, he once again was inspired by Swami Vivekananda who teaches that "people will not listen to philosophical ideologies with empty stomachs" and that "social change is not possible if people are haunted by the daily problem of making two ends meet".
The situation in Raleghan Siddhi was dire. The land surrounding the village was barren. The annual rainfall was meager, and when it did rain, most of the water was wasted by run-off. There was no means of harvesting the precious water resources of the bioregion of the village. The amount of rainwater collected was sufficient to cultivate only one crop per year on 350 acres of land out of a total of 2,200 acres of available land. 80% of the families were surviving on one meal each day.
As a result of the insufficient food production, families in Raleghan Siddhi had begun brewing liquor to earn their livelihood. When Ana returned, there were 35 breweries, and alcoholism and street fighting were common occurrences in the village.
While pondering what he could do to change the situation in Raleghan Siddhi, he remembered hearing about the work of Mr. Vilasrao Salunkhe. In 1972, Mr Salunkhe had started experiments in watershed development, water management, and soil conservation in some villages near Saswad in the Pune District in their state of Mahasrashtra. After visiting the project, Ana Hazare decided to undertake similar work of watershed development in his village.
After enlisting the interest and support of his fellow villagers, their first project was to repair the percolation tank that had been built during a government program in 1971-72 to mitigate drought damage in the region. The tank was leaking and therefore not functioning. They were successful in repairing the tank and then became eager to take on new watershed development projects. They were able to secure financial assistance from the Director of Soil Conservation and proceeded to implement a ridge-to-valley program that involved structures such as gully plugging, gabian structures, nalla building, check dams, fodder development, continuous contour trenches, and loose boulder structures. Sri (an Indian term of respect) Hazare found ways to lessen costs such as forgoing the construction of expensive cement check dams by inventing a modified gabian structure with a core wall which they found to be as effective as a cement check dam. They also were the innovators of digging shallow soak pits to collect rain water which seeps into the surrounding plantation.
The watershed development work helped to conserve each drop of rainwater on the village lands and to recharge the underground aquifers. The water table was raised, and the village was able to harvest two crops per year on 1,500 acres of their land. The village agriculture expanded to include double cropping, farming system changes, horticulture plantations, vegetable cultivation, and dairy farming. All of the breweries closed as agriculture became much more desirable to everyone. The shops in Raleghan Siddhi have not carried liquor or tobacco for many years now. There is so much work that many people from other villages now come to their village to work.
The success of the watershed development program in Raleghan Siddhi has led to similar programs being implemented in 85 additional villages in the state of Maharashtra, India. In the process of community building that naturally accompanies regional watershed development, the social problems of untouchability have disappeared as people of all castes and creeds live and work together in peace. For many years now thousands of people from all over the world have traveled to Raleghan Siddhi to learn about watershed development, where they have established a Training Center for Watershed Development. Raleghan Siddhi is also a destination for politicians, researchers, social workers, and students because it has metamorphosed from one of the worst villages to an ideal village.
In the words of Sri Ana Hazare: "Only transformation of village economy can bring in transformation of the economy of the nation. That is possible only through the development of watershed development programs. Today, our concept of development is based on exploitation of environment and humanity. We are dreaming of development by uncontrolled extraction of subsurface and surface resources like petroleum, coal, groundwater, vegetation, and aquatic resources. This is not real development. An individual should be able to stand on his own and at the same time to think about the betterment of fellow beings, which is true development. One should be able to look beyond oneself, think of one's neighbor, village and the nation."
Sri Hazre continues to share that: "The growing population is putting tremendous pressure on available resources. The demands will continue to grow. Villages in India are facing the problem of scarcity of drinking water due to depleted groundwater resources. Water tankers roaming around the rural roads for supplying drinking water to villages is a common sight now. If this trend continues, one day water will not be available even for supplying by tankers. What will happen to coming generations if all the resources of groundwater, petroleum and coal are exhausted? Today there is a need to create such individuals who are capable of looking beyond oneself. Such individuals are not created through donations, subsidy and grants. This is possible only through local leadership building programs where stress is given to building character, right values and dedication. Somebody has to make sacrifices."
The work of Ana Hazare has included many sacrifices. He has gone far beyond watershed development and community building in villages to political dissent and activism. Over the years he has taken on a series of anti-corruption causes in India with tremendous success. In almost every case, the success came after he combated government resistance by fasting with the intention of dying if necessary. He has been close to death many times before the authorities mobilized and made the changes he was demanding of them.
In 1985, the water table in Raleghan Sigghi had been raised and there was plenty of water, but the pumps to bring up the water were unable to steadily run due to fluctuations of electricity in the region. The electricity fluctuations often caused the pumps to burn out, and the agriculture of the region was suffering as a result. This problem went on for several years with no change. In 1989 Mr. Hazare started fasting to seek a redress of the situation. After being admitted to the hospital on the 8th day of the fast, thousands of local farmers joined the resistance by blocking roads all over the region. After some violent incidents leading to the death of 4 farmers, the situation was rectified, and the electricity situation was repaired.
The most famous movement that has been catalyzed by Mr. Hazare is the Right To Information Movement. After years of campaigning culminating in a fast to the death by Mr. Hazare, the government passed the Right To Information Act in 2003, which gives all people in India the right (and the procedures) to find out what their government is doing (including how money is being spent) on all levels of government bureaucracy.
Another issue that Ana Hazare has taken on is alcoholism. Hazare decided that since women were the ones most severely impacted by their husbands' alcoholism, women should be the ones to have the power to ban the sale of alcohol in their village. By his efforts, an Act was passed in India that allows the women of any village to collectively demand a ban of the sale of alcohol in their village. If a minimum of 50% of the women in the village request total prohibition in the village, the District Collector will hold a paper ballot election in that village. In this election there are two symbols on the paper—one being a bottle in the standing position and the other a bottle in the horizontal position. The women cast their votes by circling one of the bottles. If more votes are in favor of the "horizontal bottle" the Collector will then ban the sale of alcohol in that village and cancels all liquor licenses of those selling alcohol in that village.
We, at Global Community Communications Alliance, wish to recognize the unending efforts and courage of Sri Ana Hazare. He has followed the voice of God in his soul to serve his fellow man and is committed to doing whatever it takes to get his Godly assignments done. In his life he has exemplified the servant of all who continues to participate and give, with vision for a better world. We extend our gratitude and thanks to this good soul.