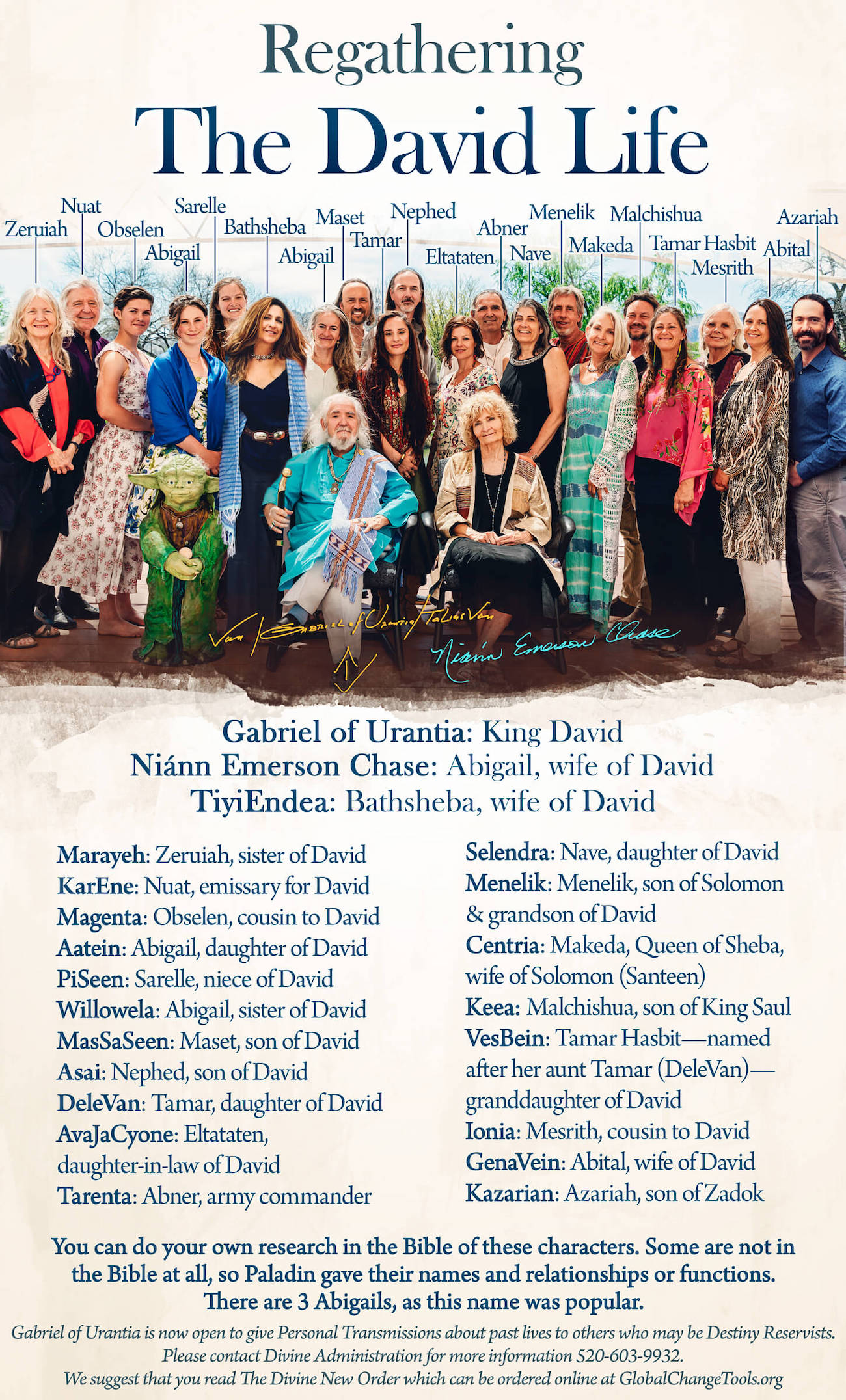 Regathering The David Life
Gabriel of Urantia: King David
Niánn Emerson Chase: Abigail, wife of David
TiyiEndea: Bathsheba, wife of David
Marayeh: Zeruiah, sister of David
KarEne: Nuat, emissary for David
Magenta: Obselen, cousin to David
Aatein: Abigail, daughter of David
PiSeen: Sarelle, niece of David
Willowela: Abigail, sister of David
MasSaSeen: Maset, son of David
Asai: Nephed, son of David
DeleVan: Tamar, daughter of David
AvaJaCyone: Eltataten, daughter-in-law of David
Tarenta: Abner, army commander
Selendra: Nave, daughter of David
Menelik: Menelik, son of Solomon & grandson of David
Centria: Makeda, Queen of Sheba, wife of Solomon (Santeen)
Keea: Malchishua, son of King Saul
VesBein: Tamar Hasbit—named after her aunt Tamar
(DeleVan)—granddaughter of David
Ionia: Mesrith, cousin to David
GenaVein: Abital, wife of David
Kazarian: Azariah, son of Zadok
You can do your own research in the Bible of these characters. Some are not in the Bible at all, so Paladin gave their names and relationships or functions.
There are 3 Abigails, as this name was popular.
Gabriel of Urantia is now open to give Personal Transmissions to others about past lives who may be Destiny Reservists.
Please contact Divine Administration for more information 520-603-9932.
We suggest that you read The Divine New Order which can be ordered online at GlobalChangeTools.org