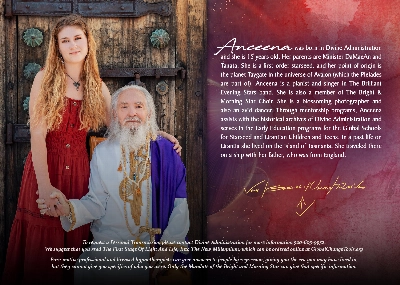 Anceena was born in Divine Administration and she is 15 years old. Her parents are Minister DaMaeAn and Tanata. She is a first-order starseed, and her point of origin is the planet Taygate in the universe of Avalon (which the Pleiades are part of). Anceena is a pianist and singer in the Brilliant Evening Stars band. She is also a member of The Bright & Morning Star Choir. She is a blossoming photographer and also an avid dancer. Through mentorship programs, Anceena assists with the historical archives of Divine Administration and serves in the Early Education programs for the Global Schools for Starseed and Urantian Children and Teens. In a past life on Urantia she lived on the island of Tasmania. She traveled there on a ship with her father, who was from England.

- Van / Gabriel of Urantia / TaliasVan

To request a Personal Transmission please contact Divine Administration for more information tel:5206039932.
We suggest that you read The First Stage Of Light And Life, Into The New Millennium, which can be ordered online at http://GlobalChangeTools.org
Pure-motive professional and licensed hypnotherapists can give answers to people by regression, giving you the era you may have lived in, but they cannot give you specifics of who you were. Only the Mandate of the Bright and Morning Star can give that specific information.