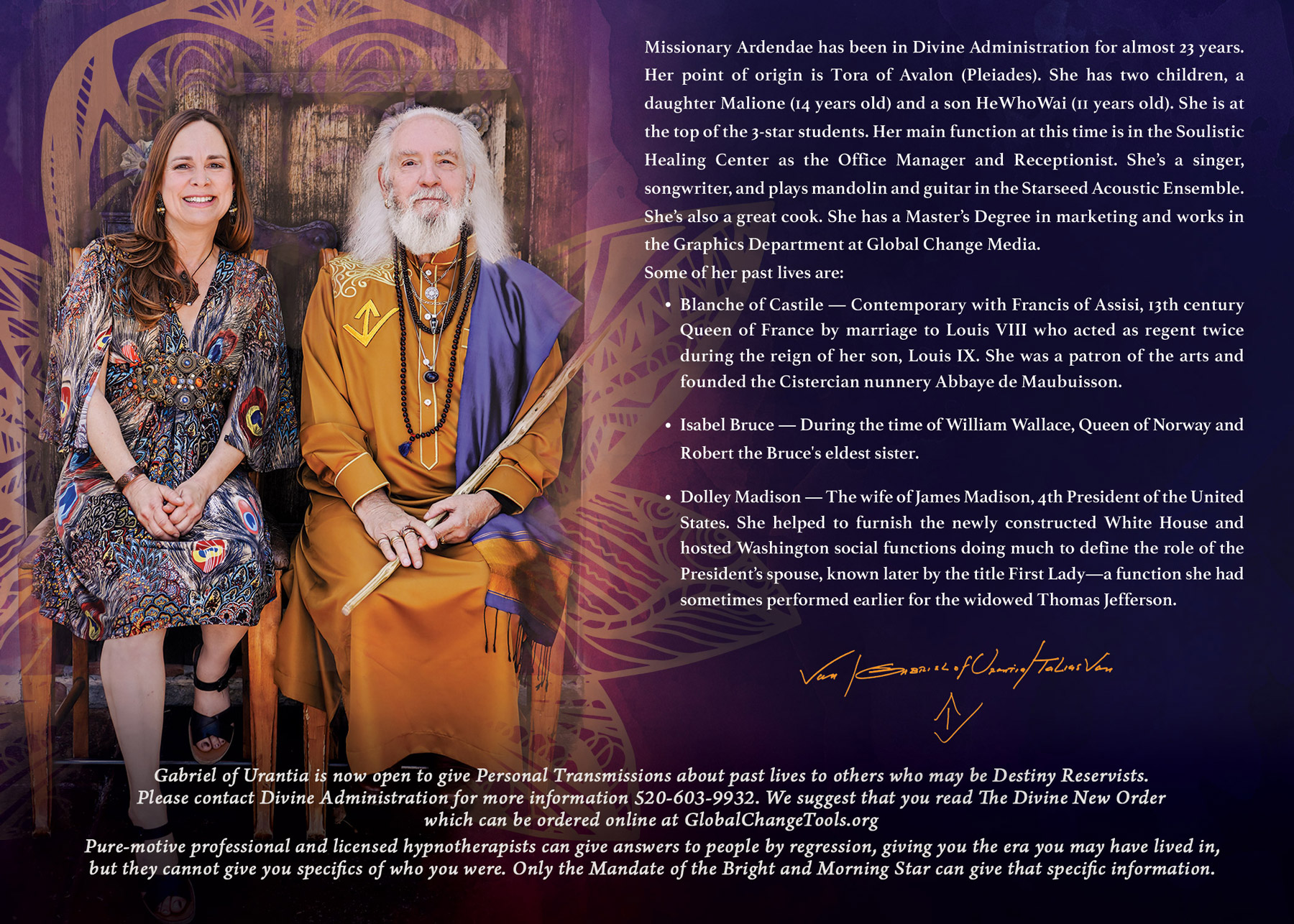 Missionary Ardendae has been in Divine Administration for almost 23 years. Her point of origin is Tora of Avalon (Pleiades). She has two children, a daughter Malione (14 years old) and a son HeWhoWai (11 years old). She is at the top of the 3-star students. Her main function at this time is in the Soulistic Healing Center as the Office Manager and Receptionist. She's a singer, songwriter, and plays mandolin and guitar in the Starseed Acoustic Ensemble. She's also a great cook. She has a Master's Degree in marketing and works in the Graphics Department at Global Change Media.

Some of her past lives are:
• Blanche of Castile — Contemporary with Francis of Assisi, 13th century Queen of France by marriage to Louis VIII who acted as regent twice during the reign of her son, Louis IX. She was a patron of the arts and founded the Cistercian nunnery Abbaye de Maubuisson.

• Isabel Bruce — During the time of William Wallace, Queen of Norway and Robert the Bruce's eldest sister.

• Dolley Madison — The wife of James Madison, 4th President of the United States. She helped to furnish the newly constructed White House and hosted Washington social functions doing much to define the role of the President's spouse, known later by the title First Lady—a function she had sometimes performed earlier for the widowed Thomas Jefferson.

- Van / Gabriel of Urantia / TaliasVan

Gabriel of Urantia is now open to give Personal Transmissions about past lives to others who may be Destiny Reservists. Please contact Divine Administration for more information 520-603-9932. We suggest that you read The Divine New Order which can be ordered online at GlobalChangeTools.org

Pure-motive professional and licensed hypnotherapists can give answers to people by regression, giving you the era you may have lived in, but they cannot give you specifics of who you were. Only the Mandate of the Bright and Morning Star can give that specific information.